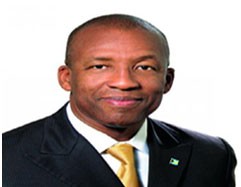 Alfred Sears
Mr. Sears is the managing partner and the head of the Litigation Department at Sears & Co.
His practice includes insolvency, commercial & civil litigation, commercial transactions, financial service and regulation, real estate and development and insurance.
Mr. Sears has been involved in many major commercial cases in the Bahamas relating to insolvency, constitutional claims, receiverships, banking, trusts, companies and partnerships, governance and regulatory issues, contracts, anti-money laundering claims, negligence claims and asset recovery claims.
He has served as the Attorney General of the Commonwealth of the Bahamas from 2002-2006 as well as the Minister of Education, Science & Technology from 2002-2007. He was elected to the House of Assembly, the National Parliament in 2002-2007. He has also served as Chairman of the Caribbean Financial Action Task Force from 2003-2004. Mr. Sears was elected to and served as Honorary Secretary of the Bar Association of the Bahamas from 1999-2002.
Mr. Sears received his Bachelors of Art, Masters of International Affairs and Masters of Philosophy at Columbia University in New York City. He obtained his Juris Doctor at the New York Law School and then went on to pursue his Certificate of Legal Education at the Norman Manley School of Law in Jamaica.
Mr. Sears is admitted as an Attorney-at-Law to the Bars in New York, New Jersey, the District of Columbia, Jamaica, West Indies and the Bahamas.
AREA OF PRACTICE
Commercial Litigation
Commercial Transactions
Constitutional Litigation
Dispute Resolution
Financial Service & Regulation
Insolvency
Liquidation & Receivership
Real Estate & Development
EDUCATION
Columbia University, New York , (BA), (MIA), (MPhiL)
New York Law School, New York, (JD)
Norman Manley Law School, Jamaica, (CLE)
ADMISSIONS

New York 1988
New Jersey, 1988
Washington, 1988
The Bahamas, 1991
Jamaica, 1992
MEMBERSHIPS
Bahamas Bar Association
Association of The Bar of The City of New York
The Jamaican Bar Association
American Bar Association
CUNY Association of Caribbean Studies
American Association of University Professors
African Heritage Association
PUBLICATIONS:
"Constitutional Dictatorship: A Call for Constitutional Reform" Parts 1 – 12 THE NASSAU GUARDIAN March 2, 2000; February 24, 2000; February 10, 2000; January 27, 2000; January 13, 2000; January 6, 2000; December 30, 1999; December 23, 1999; December 15, 1999; December 8, 1999; December 1, 1999.
"Abolition of The Privy Council: Is the Time Now to Embrace The Caribbean Supreme Court?" Caribah Spring 1998.
"Accountants and Expanding Legal Liability in The Bahamas" The Bahamian Banker: Journal of The Bahamas Institute of Bankers Volume VI, No. 1, August 1997.
"Columbus: Explorer or Exploiter?" At Random, Vol. 3, 1992
"HIV Infection and AIDS in the Bahamas: Medico-Legal Ethics and Public Policy Considerations", (pts. 1- 4) THE BAHAMA JOURNAL (March 28, April 4th, 11th & 18th, 1992.
"Human Rights and the Treatment of Haitians in the Bahamas", THE YOUNG ATTORNEY (1991) p. 63, Norman Manley Law School.
"United States' Invasion of Panama: Implications for International Law and the Bahamas", NEW YORK LAW JOURNAL, Jan. 25, 1990, at p. 1, col. 1; Caribbean Contact, Vol. 17, No. 9 (February 1990) "National Development, Human Rights and Political Accountability in the Bahamas", 160 THE NASSAU GUARDIAN 7 (1989).
"Human Rights and the Treatment of Haitians in the Bahamas: International and Constitutional Law Perspectives" (pts. 1- 4) 1 THE NASSAU GUARDIAN 18 (November 21, 1988), 1 THE NASSAU GUARDIAN 2 (November 22, 1988), 2 THE NASSAU GUARDIAN 2 (November 23, 1988), 3 THE NASSAU GUARDIAN 9 (November 24, 1988).
"International Law and the Hawksbill Creek Agreement: Implication for Foreign Investors in Freeport, Bahamas" (pts. 1 – 2), 24 THE FREEPORT NEW 210 (November 2, 1987), 24 THE FREEPORT NEW 211 (November 3, 1987).
"Transnational Banking in International Relations: Implications for Third World Political Economy", 1 JOURNAL OF THE THIRD WORLD DIPLOMACY 10 (Winter 1982).
"The Economics of Racism", Annette Hutchins-Felder, ed., An Economic Primer, Women's Division, General Board of Global Ministries, United Methodist Church, 1980.
Books by Alfred Sears
Book Name